ICOM created the Pipeline Schematic ProfilerTM (PSP) software in order to provide the scheduler with a powerful visual aid. It helps analyze batch movement scenarios within a pipeline scheduling forecast. With complex pipeline networks, it is sometimes difficult to visualize the future scheduling movements of batches and the synchronization of highly active pipeline junctions. This is true when multiple origin locations are active and are displacing batches at the same time. In some cases, these origins are displacing batches simultaneously in multiple directions. For example, upstream full-cut deliveries often cause the temporary shutdown of downstream pipeline segments and delivery sites. This allows another origin to come online and utilize these available pipeline segments and delivery sites. Other complex scheduling scenarios involve the synchronization of batch movements across shared pipeline junctions and the utilization of pipeline segments that allow for bidirectional flow.
The PSP provides the scheduler with a color-coded animated aerial view of a pipeline network, depicting the linefill batch composition at each simulation event within a scheduling plan. The PSP allows the user to step through this color-coded animation of the batches using a series of graphical buttons.
Pipeline Schematic Profiler with the Batch Information Dialog activated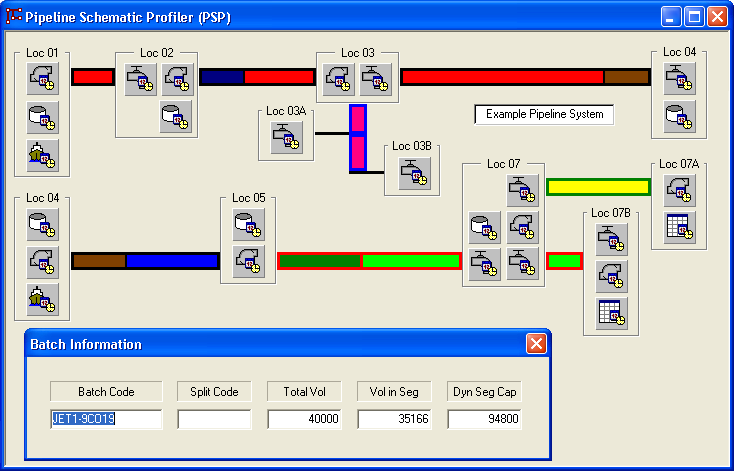 The following explains some of the features associated with the Pipeline Schematic ProfilerTM.